Coming Events

18Doors Rukin Rabbinic Fellows
Ed will lead a discussion of A New Theory of Interfaith Marriage with the 18Doors Rabbinic Fellows.

Hebrew College Rabbinical School
Ed will lead a discussion of A New Theory of Interfaith Marriage with the Senior Seminar at the Hebrew College Rabbinical School.
Watch this space for coming events! We are available to speak at your organization or group; if you are interested please Connect with the Center.
Past Events...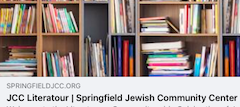 Author Talk and Q & A — Springfield (MA) JCC Literatour
Ed led an in-person and Zoom discussion of the Radical Inclusion book at the Springfield, MA JCC. You can watch the program here.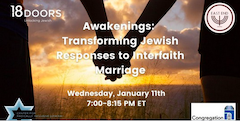 Awakenings: Transforming Jewish Responses to Interfaith Marriage
The January 11 Awakenings program was amazing. We called the way Rabbi Ben Spratt and Rabbi Josh Stanton talk about interfaith marriage and inclusion "rare" and "refreshing!" You can watch and listen to what they, Jodi Bromberg, Rabbi Robyn Frisch and I had to say here.

18Doors Rukin Rabbinic Fellowship
Ed led a webinar with the 18Doors Rukin Rabbinic Fellows.
Dawn: A Cosmic Reunion
We participated in a session, How Radical is Radical Inclusion, that was part of the 2021 Dawn: A Cosmic Reunion, Reboot's all-night culture and arts festival celebrating Shavuot, this year in partnership with the Jewish Emergent Network and LABA. In the session, Rabbi Lizzi Heydemann of Mishkan Chicago and I had a conversation, which was then discussed by her, Rabbi David Ingber of Romemu, and Rabbi Scott Perlo of Romemu Brooklyn. You can view the session here (at 3:10:12 into the video).

2020 Pew Report Forum
Pew Research Center's 2020 Survey on Jews in the U.S.: Diversity and Complexity of Identity Among Interfaith Couples, Jews of Color and LGBTQ Families
May 13 @ 3:00 pm

–

4:15 pm

EDT

Free
18Doors and Pew Research Center invite you to join a virtual presentation and conversation about findings from the Center's new 2020 survey of Jewish Americans, to be released May 11, 2021.
After a presentation from the survey's authors, the discussion will focus on key takeaways and findings about the experience of Jewish Americans who are interfaith couples, Jews of Color and LGBTQ families. We will begin to unpack the complexity and diversity of identity among these disparate yet overlapping groups, and what questions remain unanswered, or are topics for future discussion.
This survey is Pew Research Center's second major, nationwide study of U.S. Jews. The first, A Portrait of Jewish Americans, came out in 2013.
The event will begin with a presentation on the 2020 survey, Jewish Americans in 2020: Cultural Engagement, Diversity, Politics and Anti-Semitism, by Dr. Becka A. Alper and Alan Cooperman of Pew Research Center. It will be followed by a discussion with Jodi Bromberg, 18Doors; Ed Case, The Center for Radically Inclusive Judaism; Rabbi Lizzi Heydemann, Mishkan Chicago; Ilana Kaufman, Jews of Color Initiative; and Idit Klein, Keshet. The event will conclude with Q&A.
The event will take place on Thursday, May 13 at 12:00-1:15 PM PDT / 3:00-4:15 PM EDT / 10:00-11:15 PM Israel time.
Presentation on the 2020 Survey – Jewish Americans in 2020: Cultural Engagement, Diversity, Politics and Anti-Semitism:
Becka A. Alper, Senior Researcher, Pew Research Center
Becky A. Alper contributes to the Center's domestic religion polls and is an expert on the views and demographic profile of U.S. Jews. Alper is an author of Pew Research Center reports such as "America's Changing Religious Landscape," "A Portrait of American Orthodox Jews," "The Religious Typology," "What Americans Know about Religion," and "What Americans Know about the Holocaust." Before joining the Center, she was a postdoctoral research associate working on the Youth Activism Project at the University of Arizona. Alper received doctorate and master's degrees in sociology from Purdue University.
Alan Cooperman, Director of Religion Research, Pew Research Center
Alan Cooperman is an expert on religion's role in U.S. politics and has reported on religion in Russia, the Middle East and Europe. He plays a central role in planning the project's research agenda and writing its reports. Before joining Pew Research Center, he was a national reporter and editor at The Washington Post and a foreign correspondent for the Associated Press and U.S. News & World Report. He graduated magna cum laude from Harvard University in 1982 and started in journalism at the Berkshire Eagle in Pittsfield, Mass. He is an author of Mormons in America, Muslim Americans, the U.S. Religious Knowledge Survey, "Nones" on the Rise and A Portrait of Jewish Americans. He also was the primary editor of Global Christianity and Global Restrictions on Religion. He has appeared on numerous media outlets, including NPR, BBC, Radio Free Europe/Radio Liberty, the NewsHour, NBC, ABC, CBS, CNN, Fox, MSNBC and C-SPAN.
Followed by a Discussion With:
Jodi Bromberg, Chief Executive Officer, 18Doors
Jodi Bromberg has been a part of 18Doors since October 1, 2013—the day that the Pew Report on Jewish Americans came out—and became (what 18Doors was called at the time), InterfaithFamily's CEO in 2015. She has written for numerous publications, and spoken at conferences, synagogues and Jewish institutions around the country about the importance of creating comfortable, inclusive spaces for interfaith families in Jewish life. Jodi lives outside of Boston with her wife and three children, where she remains a diehard New York Yankees fan. Prior to joining 18Doors, Jodi was a corporate attorney in the Philadelphia area, and is a proud graduate of the University of Pennsylvania and the Temple University Beasley School of Law.
Edmund Case, President, Center for Radically Inclusive Judaism
Edmund Case is a writer, speaker and consultant advocating for interfaith families' engagement in the Jewish community. He is the founder of InterfaithFamily (now 18Doors), is now president of the Center for Radically Inclusive Judaism and author of Radical Inclusion: Engaging Interfaith Families for a Thriving Jewish Future and A New Theory of Interfaith Marriage.
Rabbi Lizzi Heydemann, Founder, Mishkan Chicago
Rabbi Lizzi Heydemann is the Founder of Mishkan Chicago, an independent, post-denominational Jewish spiritual community in the city of Chicago. Outside of Mishkan, she currently sits on the executive board of T'ruah: the Rabbinic Call for Human Rights and is the first Rabbi to be a part of the Chicago Commons Project, a program run by the University of Chicago School of Divinity that features a cohort of the city's faith leaders. She grew up on the South Side of Chicago, graduated with Honors in Religious Studies and Philosophy from Stanford University, and was ordained by the Conservative movement's Ziegler School of Rabbinic Studies. She is married to Henry Bernstein and is the mother of two children, Judah Lev and Adira Hannah. You can hear more from Rabbi Lizzi in sermon and interview form on Contact Chai, Mishkan's podcast, available wherever you find podcasts.
Ilana Kaufman, Executive Director, Jews of Color Initiative
Ilana Kaufman, on the Forward's 2019 list of 50 inspiring American Jews, is a Senior Schusterman Fellow. Previously, she was the Public Affairs and Civic Engagement Director, East Bay for the San Francisco, Bay Area Jewish Community Relations Council. Ilana also served as a Program Officer at the San Francisco Jewish Federation and Endowment Fund. Ilana is a nationally regarded thought leader about the intersections of Jewish communities, Jewish identity, and racial justice, and has been featured on NPR's All Things Considered and Code Switch, and in the series "ELI Talks: Inspired Jewish Ideas." Her talk titled Who Counts, Race and the Jewish Future has received almost 28,000 views. Ilana is passionate about all things at the intersection of Jewish Community/Racial Justice/Jews of Color/Education/Philanthropy.
Idit Klein, President and CEO, Keshet
Idit Klein is a national leader for social justice with more than 25 years of experience in the non­profit sector. Since 2001, she has served as the leader of Keshet, the national organization for LGBTQ equality in Jewish life. ldit built Keshet from a local organization with an annual budget of $42,000 to a national organization with an annual budget of nearly $4 million. Under her leadership, Keshet has supported tens of thousands of rabbis, educators, and other Jewish leaders to make LGBTQ equality a communal value and imperative. ldit also spearheaded the creation of leadership development programs for queer Jewish teens and mobilized Jewish communities to help defeat a proposed constitutional amendment to ban same-sex marriage and advance transgender rights in Massachusetts. In addition, she served as the Executive Producer of Keshet's documentary film, "Hineini: Coming Out in a Jewish High School."
18Doors believes our community is enriched by the diversity of its members. We welcome everyone, and invite racially diverse and LGBTQ individuals to participate in our programming. All of our virtual programs offer automated closed captioning. If you need additional captioning support, or any other accommodations to fully participate in a program, please let us know on your registration form.

Hebrew College Rabbinical School
We will be speaking for the second year with the Senior Seminar of the Rabbinical School at Hebrew College on November 17, 2020. Thank you to Rabbi Allan Lehmann for inviting us to return.
Events Cancelled For Now Due to COVID-19
Our speaking engagements have been cancelled due to COVID-19 for the foreseeable future. We hope to resume in 2021. For a list of past events, click here.

Prosserman JCC CANCELLED
Ed will be speaking at the Schwartz/Resiman Centre at the Prosserman JCC, 4588 Bathurst St, North York, ON M2R 1W6, Canada at 7:30 pm.
Jewish Federation of Nashville CANCELLED
Ed will be speaking at a Herzlian Dinner sponsored by the Jewish Federation of Nashville.

The Temple Congregation Ohabei Shalom CANCELLED
Ed will speak with a study group at The Temple Congregation Ohabei Shalom in Nashville.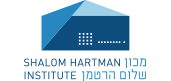 Shalom Hartman Institute CANCELLED
Ed will speak with the research fellows of the Shalom Hartman Institute's Jewish Peoplehood unit on Thursday March 26 at 1:30 pm. 11 Gedalyahu Alon Street, Jerusalem.

Fuchsberg Jerusalem Center CANCELLED
Ed will be leading a lunch and learn at the Fuchsberg Jerusalem Center on Sunday March 22 at 12:15. 8 Agron St, Jerusalem.
Federation for Jewish Philanthropy of Upper Fairfield County
Ed spoke for the Federation for Jewish Philanthropy of Upper Fairfield County on March 1, 2020 at Congregation B'nai Torah in Trumbull, CT.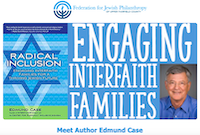 JCC and Jewish Federation of Greater New Haven
Ed spoke at the JCC and Jewish Federation of Greater New Haven as part of their author series.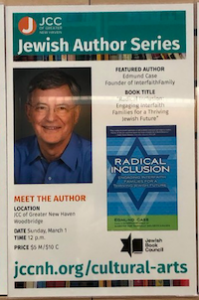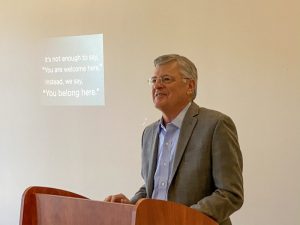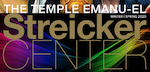 Temple Emanu-El Streicker Center
Ed was one of seven authors, including Sarah Hurwitz, Tal Keinan, Robert Mnookin and Jack Wertheimer, on a panel moderated by Gal Beckerman, "Create Meaning or Fade Away: The Dilemma Facing American Jews."


Jewish Federation of Greater Phoenix
Ed spoke at one of the Herzlian Dinners offered by the Jewish Federation of Greater Phoenix on February 5, 2020. Thanks to Marty Haberer, CEO of the Federation, for making the event possible, and to hosts Barbara and Barry Zemel.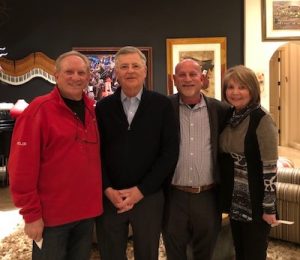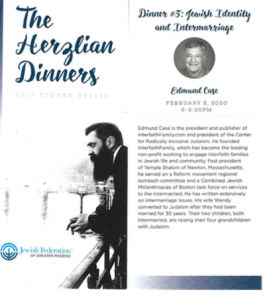 Mishkan Chicago
Ed spoke on January 25, 2020 after the kiddush lunch at Mishkan Chicago's Shabbat Morning at Mishkan & Rise and Shine Family Shabbat. Many thanks to Rabbi Lizzi Heydemann for what she termed "such an important conversation for our community." And many thanks to my special assistant — this was the first and probably only time I'll get to speak with a grandson on my lap!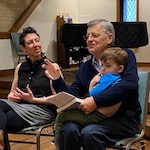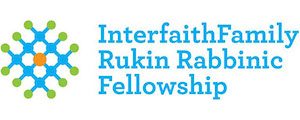 InterfaithFamily Rukin Rabbinic Fellowship
Ed led a webinar with the InterfaithFamily Rukin Rabbinic Fellows.


URJ Biennial
Ed spoke along with Rabbi Jen Gubitz and Rabbi Evan Moffic at a 2019 URJ Biennial learning session,  Embracing Interfaith Inclusion in Your Synagogue. You can read Ed's comments on what we mean by "inclusion" here, and you can see the slides shown at the session sharing the results of the survey of Reform synagogue interfaith inclusion policies and practices here.
The Center also exhibited at the Biennial, next to our friends from InterfaithFamily.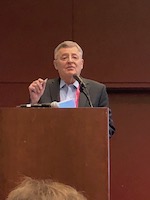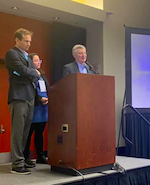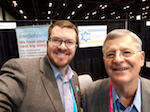 Reconstructionist Rabbinical College — Contemporary Jewish Landscape
Ed taught a lively session of the RRC's Contemporary Jewish Landscape class on November 25, 2019.

Anshe Emeth Memorial Temple
Ed spoke at Anshe Emeth Memorial Temple, New Brunswick, NJ on November 11 as part of their "Keepers of Jewish Excellence" series. Thanks to the team at AEMT for all their help, including Rabbis Philip Bazeley and Maya Glasser, Heather Kibel, Matt Vogel and Nancy Urchin.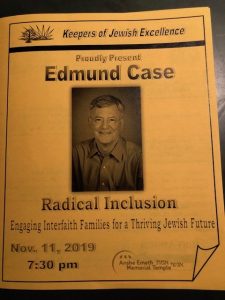 Main Line Reform Temple
Ed spoke at Main Line Reform Temple, Wynnewood, PA on November 8 as part of MLRT's Jewish Book Council Authors series. Thanks to Sally Brown for making the arrangements, and special thanks to Ed's wife's college friend Vic Haas, treasurer of MLRT and Rabbi Geri Newburge for their hospitality.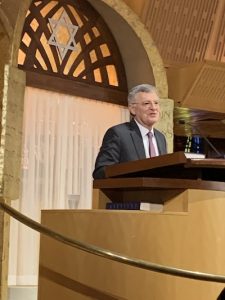 Hebrew College Rabbinical School
Ed had a great discussion about radical inclusion with the Senior Seminar of the Rabbinical School at Hebrew College on September 24, 2019.  We talked about terminology (is "faith" a problem in "interfaith"?); ger toshav status; whether and how a radically inclusive approach can fit in a halachic framework; and comparing inclusion efforts relating to LGBTQ people, people with disabilities and people of color, with those relating to partners from different faith backgrounds. Thanks very much to Rabbi Allan Lehmann for the invitation and to each one of the ten students who participated so actively!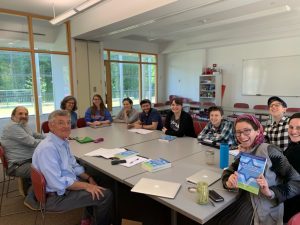 Hebrew College Interfaith Families Jewish Engagement Fellows
I had a great conversation with Hebrew College's Interfaith Families Jewish Engagement fellows at their summer seminar. They shared great insights about my vision of radical inclusion. Thanks to Keren McGinity for inviting me!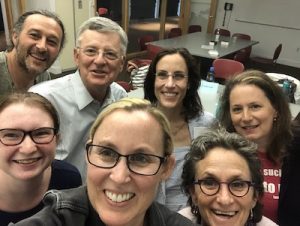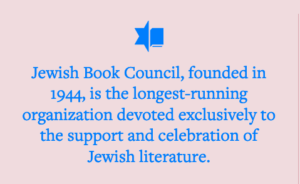 Jewish Book Council Network
Ed made a two-minute "pitch" at the Jewish Book Council Network on May 23 in New York City. The Net­work gives authors a platform for sharing their books with, and hopefully getting invitations to speak at, about 120 mem­ber orga­ni­za­tions includ­ing JCCs, syn­a­gogues, Hil­lels, Fed­er­a­tions, and cul­tur­al cen­ters.

The Interchange, Atlanta
The Interchange was a great convening by InterfaithFamily and the Jewish Federation of Greater Atlanta. Ed Case spoke on a panel addressing "The Facts and Fictions of Interfaith Couples and Families in the Jewish Community" with Fern Chertok from Brandeis and Rabbi Malka Packer-Monroe, director of InterfaithFamily/Atlanta.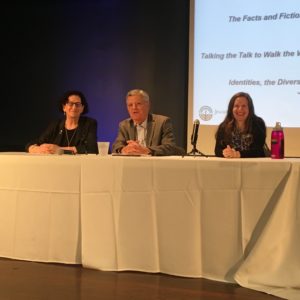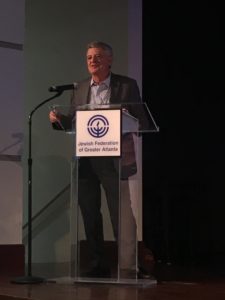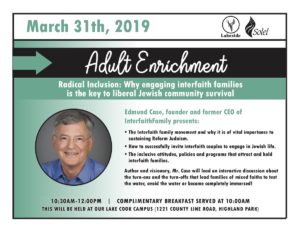 Book Talk in Chicago
Thank you to Congregation Solel and  Lakeside Congregation for Reform Judaism for hosting a very interactive discussion about the opportunities and challenges to engage interfaith families Jewishly. Pictured are Rabbi Ari Moffic, founder of CoHere, and Vanessa Ehrlich, Director of Lifelong Learning at Lakeside.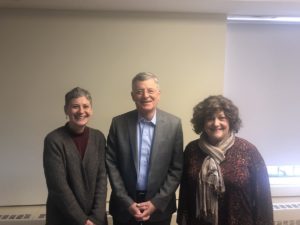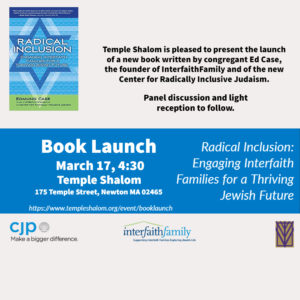 Book Launch in Newton MA
The book is launched! Thank you to Temple Shalom for sponsoring and to InterfaithFamily for co-sponsoring and  Combined Jewish Philanthropies for partnering on the event.
Ed spoke about the book, InterfaithFamily's CEO Jodi Bromberg and CJP's Rabbi Jillian Cameron commented, and all engaged in a lively Q&A with the audience.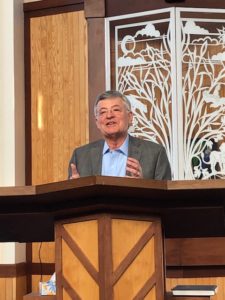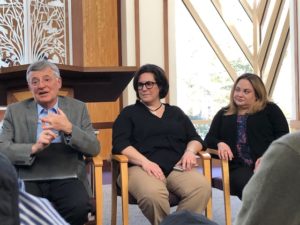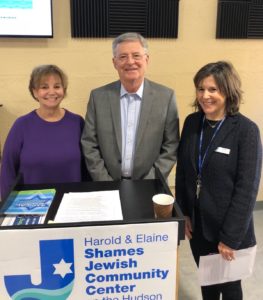 Rivertowns Jewish Consortium
Edmund Case spoke on November 4, 2018 with the Rivertowns Jewish Consortium, at the Shames Jewish Community Center on the Hudson, on the topic "Engaging Interfaith Families for a Thriving Jewish Future" and in particular on two questions: why do some interfaith families engage with the Jewish community more than others? Are there identifiable barriers that need to be eliminated to encourage engagement and to enrich communal life for all? Pictured: Faye Kimerling, Rosh Pinah Chavurah; Edmund Case; and Lauren Bergida-Morrison, Shames JCC Chief Program Officer.